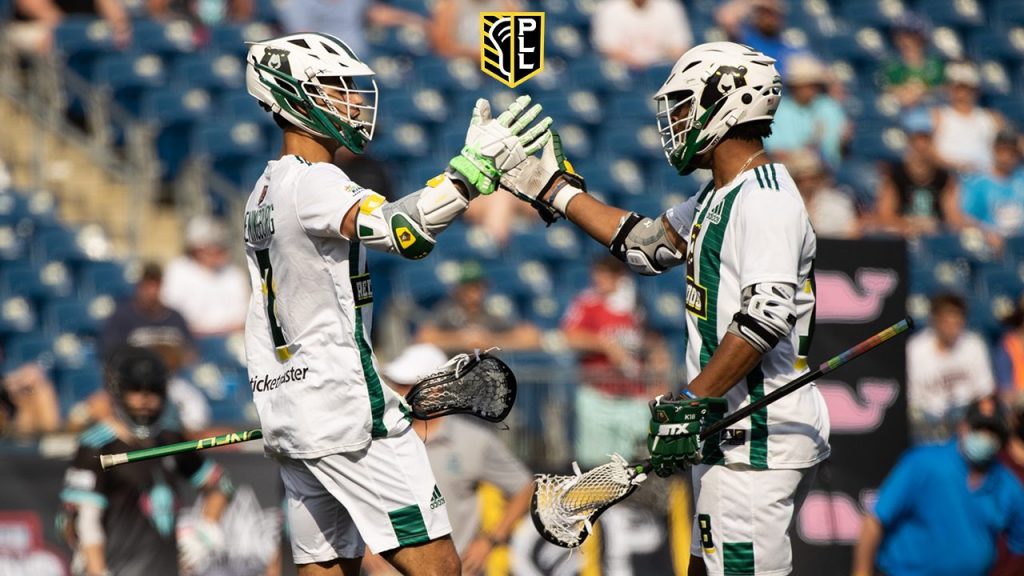 Just wwo weeks of regular season play left. As the season has gone on, bookmakers have made more and more player props available every week. Earlier in the year it was strictly points props for star offensive talent. This week, bettors can wager on points, goals, saves, and assists for a multitude of players.  While most of the playoff picture is firmed up, there is still some intrigue. A first round bye is available, teams are playing for seeding, and for most teams a spot in February's PLL Championship Series. No one has any reason to take their foot off the gas in Utah this weekend.
Rob Pannell (Redwoods) over 2.5 assists (+145)
Pannell has strung a few productive games in a row together. He has three assists in each of the last two games, and looks comfortable as a primary distributor, a semi-new role for him after spending most of his prime years as a dual threat, score first type attackman. Pannell's last game with one or fewer assists was in June. Moreover, the best shooter on the Redwoods, Jules Heningburg, should be back from injury this weekend, giving Pannell yet another target to find. The Redwoods have become a team driven by the midfield dodging of Charlie Bertrand, Myles Jones, Sergio Perkovic, and Nakeie Montgomery to start their offense. A pass off that initial dodge to Pannell at X means he often gets to attack or surveil a defense that's unsettled, and find shooters like Heningburg for quality looks.
This week, the Redwoods will take on the Waterdogs. The Waterdogs have surrendered 59 assisted goals this year, third most in the league. The assist rate against them is 51.1%. Pannell is currently sitting at 15 assists on the season, third in the league, while nobody else on the Redwoods has more than six. Pannell is also fourth in the league in assist opportunities with 39, which is about five per game, and they're converted 38.46% of the time. That number has trended up for Pannell in recent weeks as the Redwoods offensive identity has changed a bit. This week, with back to back three assist weeks coming in and at solid plus money, Pannell over 2.5 assists is a great bet.
Check out our full preview of Redwoods vs Waterdogs!
Josh Byrne (Chaos) under 2.5 goals (-115)
While Byrne is undoubtedly a top tier goal scorer, there are a few elements to this matchup that suggest his production could be limited. In his career, Byrne shoots just 23% against Adam Ghitelman, with with seven goals on 30 shots. Other Chaos players attacking from the right side have had much more shooting success against Ghitelman, like Kyle Jackson (46%), Dhane Smith (42%), Ryan Smith (60%) and Chase Fraser (29%).
The Archers have allowed just four goals on 40 shots from the high lefty wing, where Byrne attacks. Moreever, the Chaos as team shooters haven't been successful. From the high lefty wing, the Chaos have just 5 goals this year on 32 shots, the worst mark in the league. The low lefty wing is just as bad, with 5 goals on 31 shots, also worst in the league. Byrne likes to try and get to the middle of the field from those spots, but the Archers are strong from there too. They've surrendered 28 goals on 81 shots this year, the second best defensive shooting percentage in the league from that spot. Even if Byrne gets in tight, which is a strength of his, the Archers have allowed 12 doorstep goals on 22 shots, both league lows.
The Archers defense is also excellent against offense initiated by the dodge, which is what Byrne will try to do. They've given up just 25 goals on 140 total shots out of sets initiated by an iso dodge. That's just 17.9% shooting from those sets, the best in the league by a significant margin.
Chris Gray (Atlas) over 3.5 points (-110)
Gray is having an outstanding rookie year, and will be in the conversation for Rookie of the Year even as Brendan Nichtern has a firm hold on the award. Gray has 28 points, is shooting 30%, and is a very balance 14 goals to 12 assist, with a two pointer. He was held pointless against Archers back in June, but in every other game this year he's had at least three points, including three against the Whipsnakes in their previous meeting. The Whipsnakes have always done an excellent job in limited the most productive players on the Atlas, forcing others into more prominent roles. In the first outing, Jeff Teat had a single goal, as did Eric Law. Bryan Costabile was held goalless. Law's best career game against the Whipsnakes came a year ago with a 3-point outing. He's never had more than that against the Whips. Teat has played the Whipsnakes twice, and totaled 3 points. He's never had fewer than 3 points in a game against everyone else in the league. Costabile has totaled 4 points in 3 games against the Whips, and is having a down shooting year.
This is an opportunity for Gray to pick up the scoring slack against the Whipsnakes. He showed in college that he can play the QB role, and do it from all spots on the field with both hands. He has 30 assist opportunities this year which have been converted 40% of the time. He's up to 9 second assist opportunities, with 40% of those converted. While those don't count towards his point total, it's evidence that he can be a distributor and initiator. His shooting 40% on assisted shots tells you he can be a pure scorer too. Gray can fill any void left by the Whipsnakes taking away Teat, Law, or Costabile and be productive in their absence.
Read our full analysis and preview of Atlas vs Whipsnakes
Pickswise is the home of PLL Predictions. Check out all of our PLL Picks throughout the Premier Lacrosse League season.
The post PLL Top Props: Star player props for Premier Lacrosse League Week 10 appeared first on Pickswise.
Read More