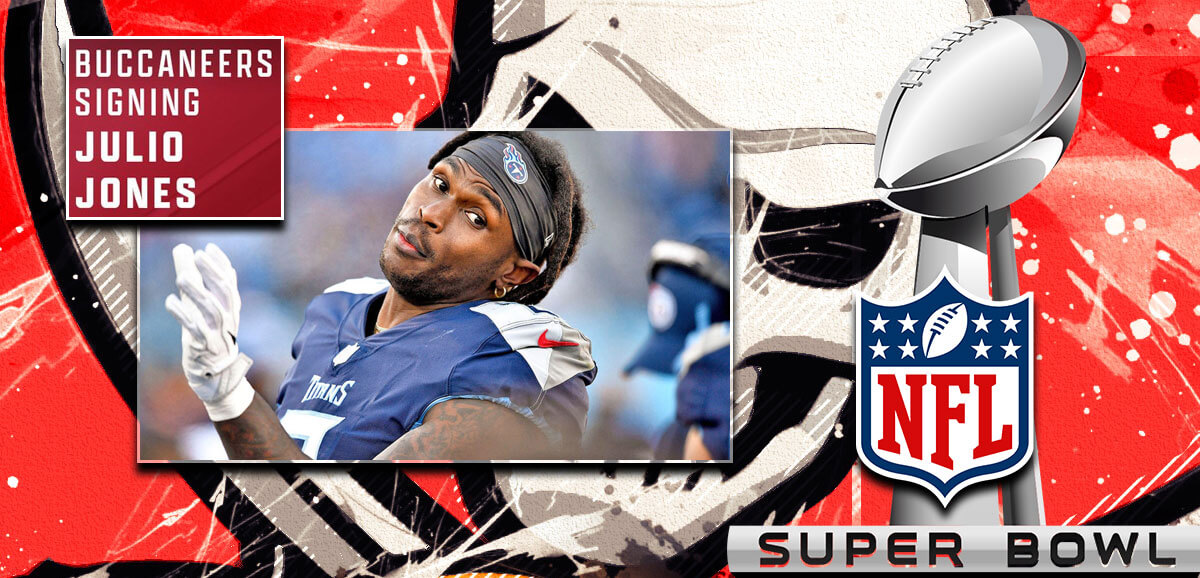 The Tampa Bay Buccaneers' Super Bowl odds moved from +750 to +700 to win Super Bowl LVII after signing WR Julio Jones on Wednesday.
Jones inked a one-year $6 million deal with up to $2 million in incentives with the Buccaneers.
The 33-year old is coming off his worst statistical season in 2021 with the Tennesee Titans.
When Julio Jones was at the peak of his powers, he witnessed firsthand how hard it was to beat Tom Brady in a Super Bowl. Now Jones will try to win his first Super Bowl alongside Brady as he looks to bounce back after a down season with the Titans.
Jones officially signed with the Tampa Bay Buccaneers on a one-year deal on Wednesday. The former Atlanta Falcons star will be joining a receiving corps led by Mike Evans, Chris Godwin, Tyler Johnson, Scottie Miller, and Breshad Perriman, and recently welcomed his former Falcons teammate Russell Gage.
Jones Deal Has a $6M Base and $2M in Incentives
New Bucs WR Julio Jones reportedly has a $6M base and up to $2M in incentives. https://t.co/mRUe9OV4dJ

— ProFootballTalk (@ProFootballTalk) July 27, 2022
Jones' deal is worth $6 million but has a total of $200,000 bonuses in play or up to $2 million in incentives if he gets all 10 milestones. Jones will get a $200K bonus if he reaches 50/60/70/80 receptions and 600/700/800/900 receiving yards, plus $200 K if the Bucs win the NFC title, and another $200 K if they win Super Bowl LVII.
The 33-year-old Jones played 10 seasons for the Atlanta Falcons before spending the previous campaign with the Tennessee Titans. With the Falcons, he amassed a total of 12,896 receiving yards, the most by a receiver since Jones entered the league and more than any receiver since 2010. During that span, Jones was invited to Seven Pro Bowls, including six straight from 2014 to 2019. He was also a two-time All-Pro selection and was named to the 2nd Team All-Pro seven times.
However, Jones is coming off the worst season of his career as he dealt with hamstring injuries. He played in only 10 games for the Titans and put up career lows in receiving yards ( 434 ) and touchdown catches ( 1 ). But Jones says that he is now 100% healthy and ready to show the world that he still has it. Unfortunately for him, the top NFL sportsbooks aren't completely buying it.
There Was Actually a Shift
Buccaneers Super Bowl odds before signing Julio Jones: +750

Buccaneers Super Bowl odds now at @CaesarsSports: +700

There was actually a shift!

— Max Meyer (@TheMaxMeyer) July 26, 2022
BetMGM's John Ewing noted that there were no odds shifts at their sportsbook with Tampa Bay staying put at +750 odds. However, Caesars Sportsbook reported that the Bucs moved from +750 to +700 at their end and they are now closer to the Buffalo Bills who are still the odds-on favorite to win Super Bowl LVII at +650 odds.
PointsBet USA and Bet365 USA also have the Buccaneers now at +700, and also chasing Buffalo's +650 odds. The DraftKings Sportsbook also has shortened Tampa Bay's odds to +700 but the Bills are listed at +600 there. Meanwhile, Unibet and the FanDuel Sportsbook both have Buffalo at +650 and Tampa Bay still at +750. The Bucs' longest odds are currently at +850 via the BetOnline App whereas the Bills are at +600.
Shift or not, however, the Buccaneers have certainly gotten better with the addition of Jones, at least on paper. The Bucs lost veteran wideout Antonio Brown who quit on the team and tight end Rob Gronkowski who retired after last season. Tampa Bay hopes that Jones, or what's left of him, will be enough to help fill the void left by AB and Gronk as they look to make another run at the Lombardi Trophy in Tom Brady's limited time.
Read More