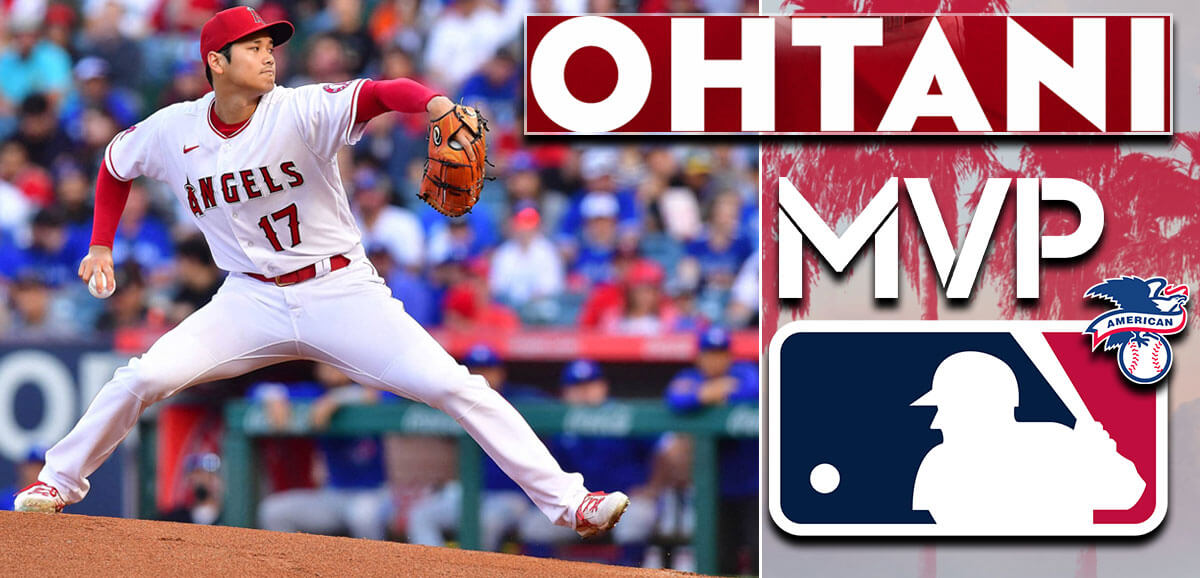 Shohei Ohtani is still the early AL MVP betting favorite at +240 odds.
Ohtani's Angels teammate Mike Trout has improved his AL MVP odds to +300 from +350.
However, it is Yankees' slugger Aaron Judge who has made headway, moving from +2000 to +350 in the latest betting boards.
Shohei Ohtani is still the early AL MVP betting favorite but Yankees outfielder Aaron Judge has slugged his way to the top of the betting boards.
According to the best MLB betting sites, there are currently three players fighting tooth and nail for the top spot on the betting boards. Ohtani is on top of that list with his +240 odds while his teammate Mike Trout is next at +300. However, Judge has moved to third behind the Angels duo at +350 while Vladimir Guerrero Jr. is a distant 4th favorite at +1150 odds.
Ohtani Opens as AL MVP Favorite
Shohei Ohtani (+400) is the AL MVP favorite and +4000 to win the AL Cy Young ⚾🏆

"If he has any sort of decent year, he's going to be an MVP candidate every year just because no one else can do what he does" – Adam Pullen

Check out #CaesarsSportsbook's MVP & Cy Young odds ⬇️

— Caesars Sportsbook (@CaesarsSports) March 11, 2022
Last March, Ohtani opened as the +400 betting favorite to win a second consecutive American League MVP award. The 27-year-old Japanese star had a crazy 2021 season where he was a dominant player both at the plate and on the mound. Ohtani registered 46 home runs and 100 RBIs while also pitching to a 3.18 ERA and amassing 156 strikeouts in just over 130 innings pitched.
This season, Ohtani has fallen off the pace of that historic 2021 campaign but is still the early betting favorite to win the AL MVP award. In 8 starts, Ohtani has posted a modest 3-3 record with an ERA of 3.45 and a WHIP of 1.04 with 63 strikeouts in 44.1 innings pitched. At the plate, he's hitting just .242 9 home runs and 29 RBIs.
Although his bat has not completely awakened from its slumber, Ohtani posted an on-base slugging percentage of .838 last week with 2 RBIs and three runs scored. Those numbers improved his season stats to an OPS of .747 and 29 RBIs with 32 runs scored. He is also averaging 12.8 strikeouts per 9 innings.
Aaron Judge Has Slugged His Way From Longshot to Top of MVP Race
Manny Machado and Aaron Judge have slugged their way from longshots to the top of their respective MVP races at @PointsBetUSA.

Who are you betting on to win the awards? pic.twitter.com/vqKuRfHMFD

— NBC Sports EDGE Betting (@NBCSportsBet) May 28, 2022
Ohtani opened at a shorter +300 odds at PointsBet USA and he's improved to +240 in the said betting site's latest AL MVP betting board. However, it is the Yankees' Aaron Judge who has seen the biggest improvement as far as betting odds are concerned. Judge opened with +2000 odds last March at the best MLB betting sites but has slugged his way near the top of the betting boards at +350.
Last week, Judge hit three more homers to up his MLB-leading total of 17 while his .769 slugging percentage is nearly twice better than the next qualified player on the team. He is also hitting at .309 which is ranked 19th overall while his 37 RBIs are 8th most in the majors. More importantly, the Yankees are 33-15 and are 3.5 games better than the Houston Astros atop the American League standings.
Meanwhile, Mike Trout, the perennial preseason AL MVP betting favorite until this season when Ohtani took the title, opened at +350 and is down to +300 as the second favorite behind Ohtani. Trout ranks second overall in OPS at 1.095 and he ranks third behind Judge and Mookie Betts in home runs with 13 on the season. For as long as he avoids injury this season, look for him to factor in the MVP race along with Ohtani and Judge.
Read More