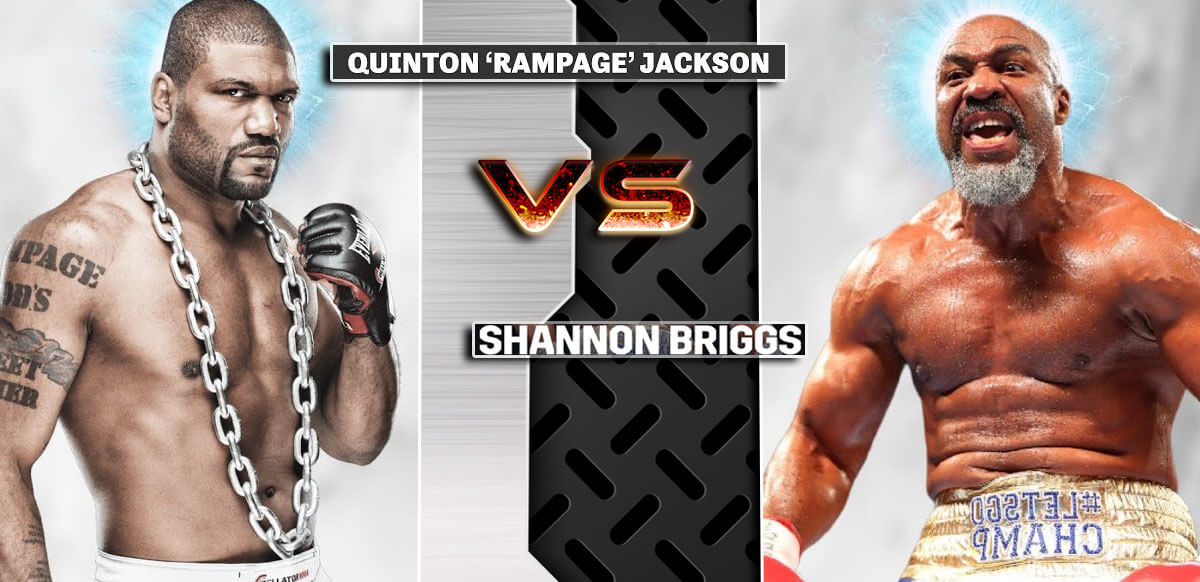 Shannon Briggs has opened as the -260 betting favorite in a boxing match against Quinton "Rampage" Jackson.
DAZN announced on Wednesday that Briggs and Jackson are set to fight inside a boxing ring but no date was mentioned.
The 50-year-old Briggs has not fought since 2016 while the 44-year-old Jackson has never fought inside a boxing ring.
Shannon Briggs has re-opened as the betting favorite in a bout against former UFC champion Quinton "Rampage" Jackson.
Quinton Jackson (+200)
Shannon Briggs (-260)https://t.co/I4Rbf3yStl

— ProBoxingOdds (@ProBoxingOdds) July 26, 2022
The odds were re-posted after DAZN announced a boxing match between the two combat sports superstars:
Former Heavyweight world champion Shannon Briggs is set to face former UFC Light-Heavyweight champion Rampage Jackson in a boxing match 👊

Who you got? 🍿 pic.twitter.com/YT9YWyxxL2

— DAZN Boxing (@DAZNBoxing) July 25, 2022
Rampage and Briggs Nearly Brawl at Triad Combat Weigh-in
Rampage Jackson And Shannon Briggs Nearly Brawl During Heated Confrontation At Triad Combat Weigh-In https://t.co/IVbk3TNNfV via @BroBible

— FITE (@FiteTV) November 27, 2021
It can be recalled that Rampage and Briggs nearly brawled during the weigh-in of the Triad Combat event last November, where the two coached opposite each other. Triad Combat is a new competition initiated by Triller Fight club that features bouts between boxers and MMA fighters, with battles fought inside a specially-designed triangular ring while utilizing two-minute rounds.
Jackson's team emerged victorious at the end of the evening, despite former heavyweight title challenger Kubrat Pulev stopping ex-UFC heavyweight champion Frank Mir in the main event. Using team scoring, Rampage's MMA team defeated Briggs' boxing squad 14-11 to win the inaugural Triad Combat event.
But more than the result of the event, fans were more eager to know when the coaches would fight. Bad blood ( or so it seems ) has been brewing between the two since Briggs shifted his attention to Rampage after failing to land a fight with Mike Tyson. Triller tried to stir the pot by letting them coach against each other and then tried to book them to a fight.
Odds Closer This Time Around
Rampage Jackson vs. Shannon Briggs In Talks For Triad Combat In March https://t.co/JGAVQqQDEj via @middleeasy

— MiddleEasy (@MiddleEasy) November 30, 2021
The odds are closer this time around. Briggs opened as the -300 betting favorite and Jackon the +240 betting underdog when these two combat sports superstars were first linked to a fight last November. The fight was supposed to happen in a Triad Combat event last March but that did not happen.
Triller has postponed its last two events which were supposed to happen last February 26th and June 11th, with no word on when the next one will be. Now  it is happing via DAZN although DAZN's announcement on the fight between Briggs and Rampage also didn't mention a date although latest reports said it could go down later this year.
Rampage has not fought in a boxing match before but as an MMA fighter, he was the betting underdog in only five total bouts. That means this is only the sixth time in his combat sports career that he's opened with the plus money sign written next to his name. Briggs meanwhile, was a massive -6000 favorite in his last boxing bout against Emilio Zarate but then again, that bout was six years ago and the Cannon is now 50 years old.
Read More