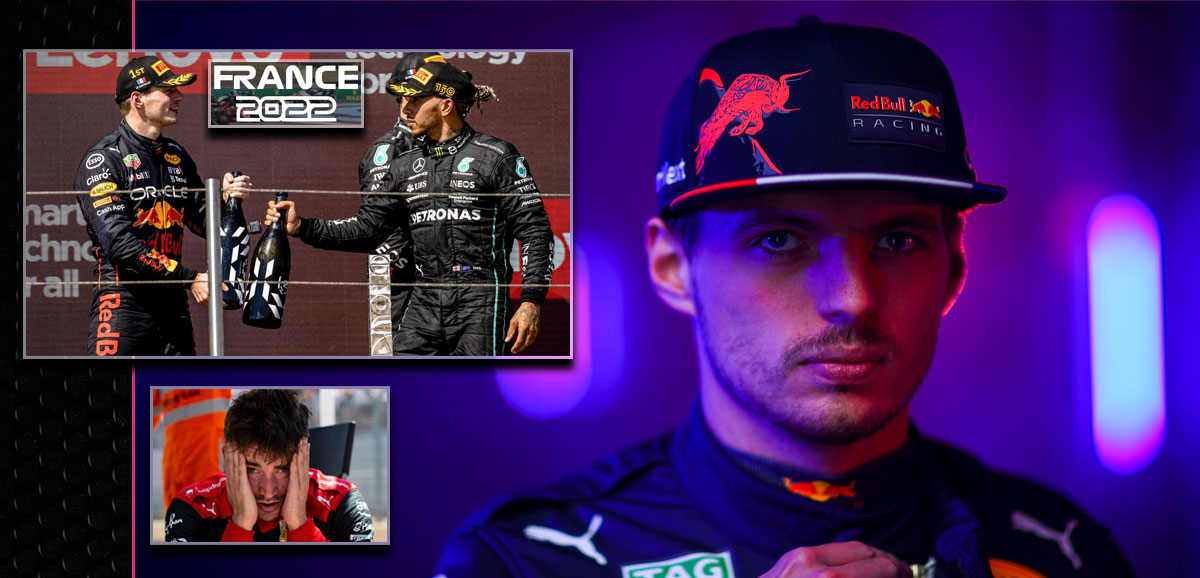 Max Verstappen improved his championship odds to -500 from -400 after winning Sunday's Lenovo French GP.
Pole sitter Charles Leclerc was forced out of the race on Lap 18 after hitting a barrier.
Verstappen is now 63 points ahead of Leclerc in the latest Drivers Standings.
Max Verstappen has gone from -400 to win the 2022 Formula One World Championship to -500 after winning Sunday's French Grand Prix.
In a race where Charles Leclerc was supposed to cut into Verstappen's 38-point lead in the Drivers Standings, it was the defending champion who emerged victorious.
Leclerc Takes Pole
CHARLES LECLERC TAKES POLE!!! 💪

A brilliant effort from the Ferrari driver who tops qualifying for the seventh time this season 👏

Verstappen takes second place with Perez finishing third.#FrenchGP #F1 pic.twitter.com/4naVnbdQY6

— Formula 1 (@F1) July 23, 2022
Leclerc was poised to make a move on Sunday after winning the qualifying race and starting from the pole for the 7th time this season. Despite that, it was Verstappen who entered the race as a betting favorite, coming in at +125 odds. Pole sitter Leclerc entered closed at +160 with Lewis Hamilton a distant third at +775 via online sportsbook PointsBet USA.
Early on, it looked like it was going to be a dog race between the two rivals, with the Ferrari driver holding a slight edge as he kept the Red Bull ace behind him for the first 16 laps before Verstappen's first pit stop. Then on Lap 18, just before Leclerc was expected to make a pit stop, he lost control of his car at turn 11 and spud wide and hit the barriers.
The accident meant that Leclerc's race was over and his hopes of eating up into Verstappen's lead went down the drain. It marked the third time this season that Leclerc has retired from a race while having the lead – he suffered a turbocharger problem at the Spanish Grand Prix and had an engine issue at the Azerbaijan Grand Prix.
Verstappen Extends Championship Lead to 63 Points
Max Verstappen wins the French Grand Prix for @redbullracing 🏆

Verstappen extends his championship lead to 63 points pic.twitter.com/jLRmossdBJ

— Bleacher Report (@BleacherReport) July 24, 2022
With Leclerc out of the race, it was an easy win for Verstappen as he beat Lewis Hamilton by over 10 seconds. Mercedes also took the other podium spot with George Russell finishing third, ahead of Red Bull's Sergio Perez. Despite the Silver Arrows taking two podium spots, it was Verstappen's win that mattered more as he extended his championship lead over the second-placed Leclerc to 63 points.
Verstappen also pulled away in the odds boards, moving to -500 with Leclerc falling back at +400 via Bet365 USA, BetMGM, and Borgata Online. The defending F-1 world champion is listed at an even shorter -667 odds via PointsBet USA with Leclerc also priced at +400 odds there. Verstappen's current shortest odds are at -670 via Unibet with Leclerc listed at +375 at the said sportsbook.
There are still 10 races to go in the 2022 Formula One World Championship but right now, Verstappen is pulling away from Leclerc and the field. Not only is Verstappen driving like a world champion, but he is also driving a car that has performed best under the new regulations. Not to mention that Leclerc has shot himself in the foot several times already this season.
Read More