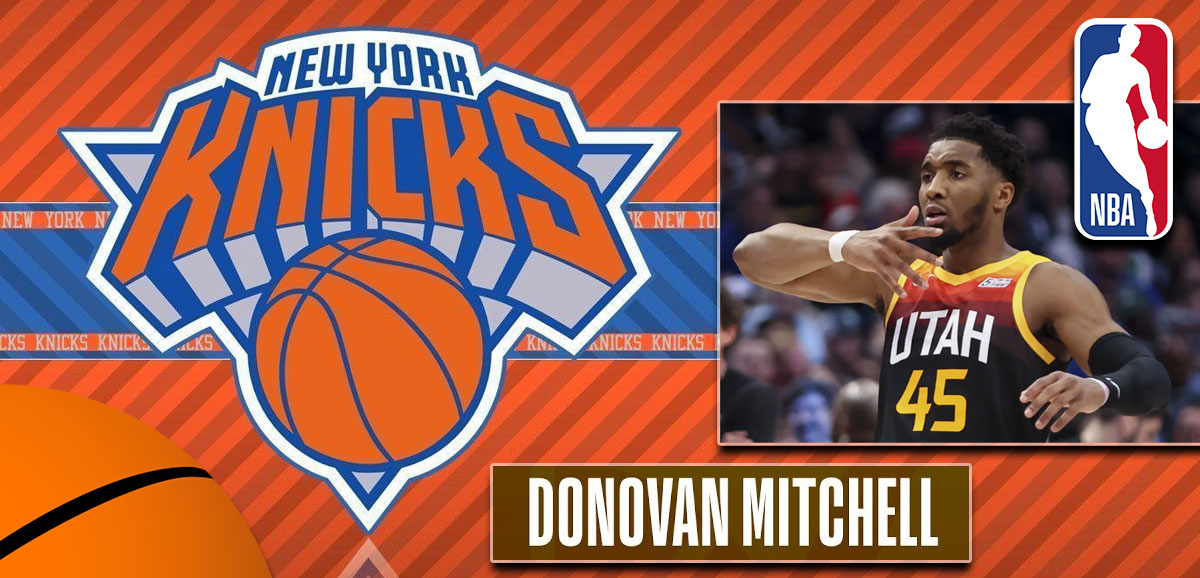 The New York Knicks are the -105 favorites to land Donovan Mitchell if the Jazz trade him.
Second on the BetOnline oddsboard are the Miami Heat who are at +400 odds.
Rumors swirling say that the Jazz are now willing to listen to trade offers for Mitchell.
The New York Knicks may finally land the superstar that they have been dreaming of for a long time now.
According to online sportsbook BetOnline, the Knicks are the -105 betting favorites to land Utah Jazz superstar guard Donovan Mitchell if the Jazz trade him as rumors of the Jazz now willing to trade their best player after trading starter Royce O'Neale and All-Star center Rudy Gobert in recent weeks.
Knicks Expected to "Quickly" Put Together a Trade Package
REPORT: The New York Knicks are expected to "quickly" put together a trade package for Donovan Mitchell, reports @Tjonesonthenba. pic.twitter.com/f3CxCcE9X1

— Legion Hoops (@LegionHoops) July 12, 2022
The Knicks have been linked to almost every superstar trade rumor in recent years. However, the Knicks have been unable to land any one of the big names.
This offseason, New York's biggest catch was free agent guard Jalen Brunson whom they even overpaid just to go to the Big Apple. The Knicks' title odds shortened with Brunson but from +25000 to +15000, they are still longshots to win it all this season. Getting Mitchell would most definitely improve their chances of making the playoffs.
Next on the BetOnline odds boards is the Miami Heat at +400. The Heat may have trade pieces and draft picks plus they also have a solid link to the Jazz with D-Wade a part owner in Utah. Boston is third at +700 but the Celtics have already upgraded with Malcolm Brogdon and Danilo Gallinari. Plus, Brad Stevens looks like he's committed to making the Tatum, Brown, and Smart core work.
Interesting at +700 is the Brooklyn Nets who are actively looking to trade both Kyrie Irving and Kevin Durant. Kyrie is strongly linked to the Lakers and KD to the Suns but if Mitchell is available in the market, he may be a game-changer. The Lakers at +900 are believed to be the front-runners to land Irving but a Mitchell for Westbrook plus sweeteners might be a possibility. The Warriors and Kings are next at +1000 while the Cavs are at +1200.
Jazz Shown a Willingness to Listen to Trade Offers
Jazz are "showing a willingness" to listen to trade offers involving Donovan Mitchell, per @wojespn pic.twitter.com/PGPnko7li0

— Bleacher Report (@BleacherReport) July 12, 2022
The Jazz was believed to be retooling around Donovan Mitchell after the Rudy Gobert trade, but in a change of tune, ESPN's Adrian Wojnarowski recently reported that rival teams have said that Utah has now shown a willingness to listen to trade offers for Mitchell.
Mitchell has been the Jazz's best player since he joined the team. He has a career stat line of 24/4/4 with shooting splits of 44/36/83%. He has made three All-Star teams with the Jazz, has averaged the most points per game since Karl Malone, and more importantly, has taken the team to the playoffs in every season he has been with the team.
But with Gobert now gone, Utah's win-now window appears to be close. Their title odds plummeted from +6600 to +1000 in the aftermath of the deal. Utah's haul in the Gobert deal included four future first-round picks and they also got a 2023 first-rounder from the Brooklyn Nets in the Royce O'Neale trade.
Mitchell still has four years and $134 million left on his max deal signed in 2020 but the final year is a player option. Maybe Danny Ainge wants to blow it up now and start a rebuild, which means Mitchell may no longer fit their new timeline. In that case, let the bidding begin.
Read More