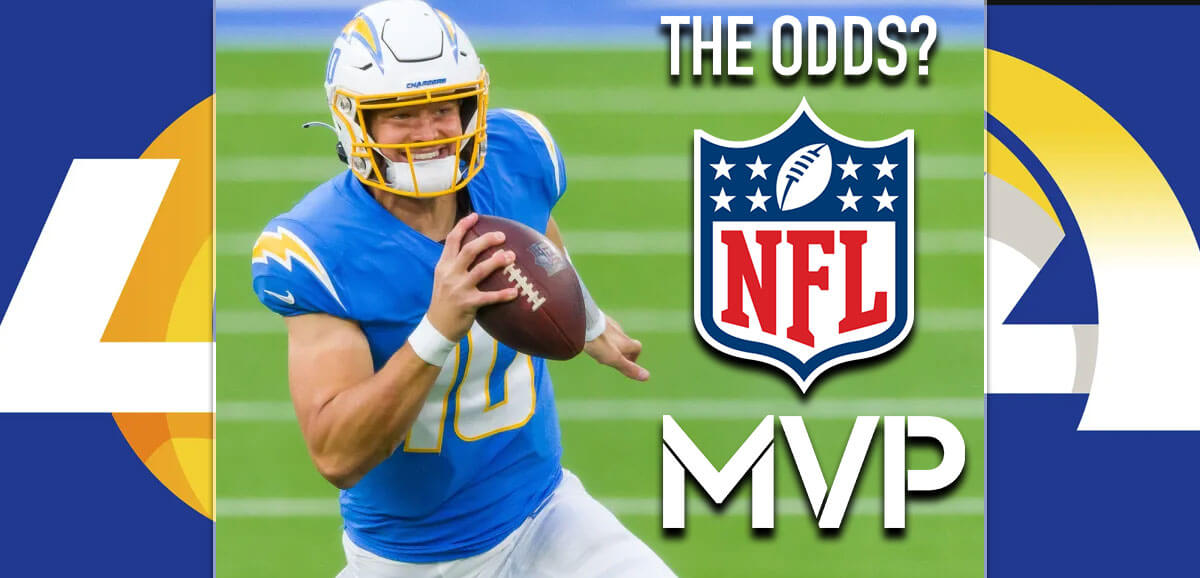 Josh Allen is still the odds-on favorite to win the 2022 NFL MVP award but Justin Herbert is gaining ground.
Herbert has been the most popular MVP bet for July 2022 with 15.0% of the tickets and 36.4% of the handle.
Overall, Herbert has overtaken Josh Allen for the most betting handle at 13.2% to 12.4%.
Buffalo Bills superstar quarterback Josh Allen opened with the third-best odds to win the 2022 NFL MVP award at +900 but after receiving the most tickets and money to win the award, he moved up to the top of the mountain at +700 odds.
Allen is still on top of the NFL MVP betting boards right now, but this month, another young superstar quarterback has replaced him as the most popular bet to win the award. Allen still has the most number of betting slips overall but as far as total money wagered is concerned, Justin Herbert has passed Allen.
Justin Herbert Passes Josh Allen in Betting Handle
Justin Herbert (+900) passed Josh Allen (+700) for the most money bet overall to win NFL MVP 👀 pic.twitter.com/1vBnKJGB8D

— Even The Odds (@overtimeETO) July 20, 2022
According to the online betting site Caesars Sportsbook, Herbert has taken the most betting tickets and dollars than any player on the MVP odds boards. At 15% of the bets, Herbert ranks ahead of Allen who has 10% while he also leads in betting handle with 36.4%, ahead of Derek Carr's 27.1%. Allen is third behind Herbert and Carr in total dollars with 22.4%. Caesars also noted that Herbert, Allen, and Carr have combined for 85.9% of the total money wagered for the NFL MVP betting market this month.
Overall, Herbert has passed Allen in total betting handle with 13.2% as compared to Allen's 12.4%. The Chargers' QB also now has a total of 9.4% of the total betting tickets, ranking only second behind Allen's 10.6%. Caesars also noted that the largest MVP bet so far taken at their sportsbook has been a $7,500 bet on Herbert at 15/1 odds or a potential winning of $112,500.
Meanwhile, Carr is 4th in tickets overall with 7.3% and 5th overall in handle with 7.7%. Denver Broncos quarterback Russell Wilson sits 5th in bets with 6.9% and sixth in dollars with 7.2% as he and Carr join Herbert as the three AFC West QBS in the Top 10 in the early MVP betting action. The other AFC West quarterback, Patrick Mahomes of the Kansas City Chiefs, has 2.4% of the tickets and 1.4% of the money, or at least five times fewer than the other three QBS in the division.
Bills Still Dominating Offseason Action But Chargers are Gaining
The Bills have dominated NFL offseason action at @CaesarsSports.

One example is $1000+ bets to win the 2023 Super Bowl:

1. Bills (77)
2. Buccaneers (49)
3. Chargers (32)

Check out the Bills betting report for all of their latest odds and trends: https://t.co/xFVgYONRmg

— Max Meyer (@TheMaxMeyer) July 21, 2022
Meanwhile, Buffalo has dominated the early Super Bowl betting but Herbert's Chargers have been gaining ground as of late too. Caesars says that the Chargers rank second in bets at 7.0% and money at 11.0% this month with only the Bills having better percentages than them at 10.2% and 14.2%, respectively.
Overall, the same sportsbook also reported that Buffalo has received 77 bets amounting to $1,000 or larger. The Tampa Bay Buccaneers rank second with 49 such bets. Although far behind, the Chargers can still claim they are third with 32 $,1000+ bets received so far since the betting lines have opened.
The Bills also have the highest Super Bowl bet taken so far with the $20,000 bet wagered in Nevada at +650 odds or a potential win of $130,000. However, the largest Super Bowl LVII bet received this month was an $11,000 wager on the Green Bay Packers at 12/1 odds or a potential payout of $132,000. The second-highest Super Bowl bet this month? A $6,500 bet on the Chargers at 16/1 odds or a potential win of $104,000.
Read More