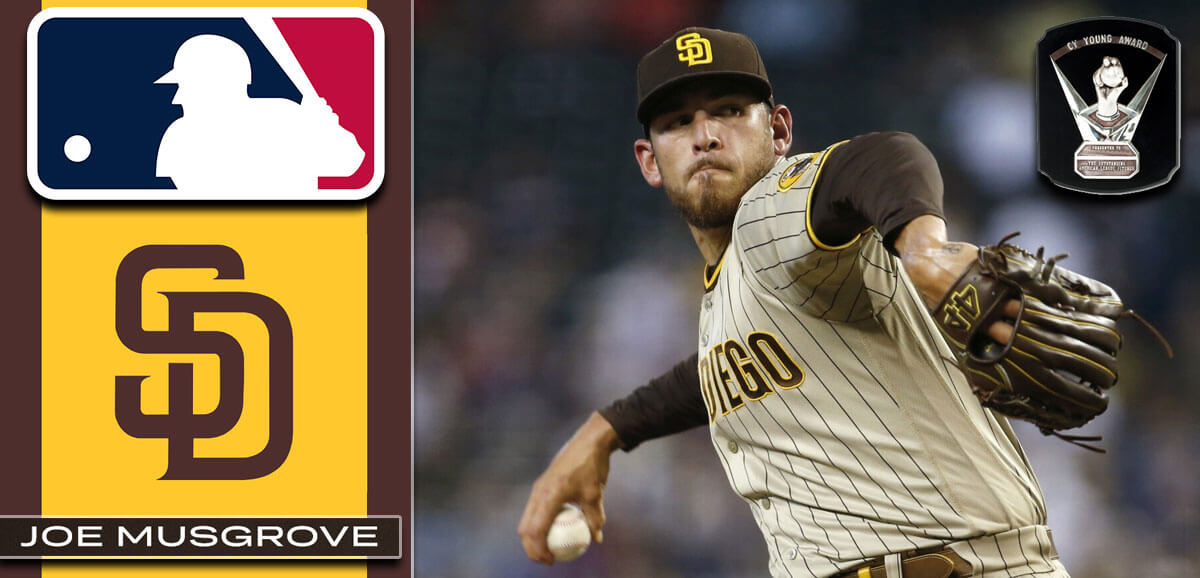 San Diego Padres' pitcher Joe Musgrove is the second favorite in the NL Cy Young Betting Boards.
Musgrove was at +1200 one month ago at BetMGM but is now at +450.
Miami Marlins ace Sandy Alcantara is the current NL Cy Young betting favorite at +225 odds.
Joe Musgrove's 2012 breakout season was just the beginning. The San Diego Padres' right-handed starting pitcher is having his best season this campaign and has firmly put his name in the NL Cy Young race.
Musgrove's current 8-1 record is 4th best in the league while his ERA of 2.12 is 5th overall and his WHIP of 0.99 is ranked 6th-best in the majors. With the best start of his MLB career, Musgrove has moved up to second in the latest NL Cy Young odds boards.
Musgrove's Run of 12 Quality Starts Ends
12 games, 12 Quality starts for the Padres Joe Musgrove.

+450 odds for NL Cy Young at PointsBet pic.twitter.com/vnY9Sddq2L

— Herb Lawrence (@Ecnerwal23) June 16, 2022
Musgrove was at +1200 one month ago at BetMGM, with Cobin Burnes the +325 favorite and Carlos Rodon the second favorite at +600. Walker Buehler was then the most popular bet at +1100 with 11% of the tickets and 12% of the total betting handle. Musgrove opened the month of June at +1000 odds Burnes is still on top at +325 with current favorite Sandy Alcantara behind him at +800 and Carlos Rodon in third at +900.
The San Diego ace improved to +650 last June 10th with Burnes at +400 and Alcantara at +500. A couple of days later, Alcantara emerged at the top spot with his +400 odds while Musgrove moved to a tie with Burnes at +550. After Musgrove improved to 8-0 while picking up his 12th quality start in as many games pitched this season, the Padres' right-hander took solo second at +450, chasing only the surging Alcantara.
Then last June 17th, Musgrove's streak of 12 consecutive quality starts ended when he allowed six earned runs on seven hits in six innings pitched during a 2-6 loss to the Phillies. He also picked up his first loss of the season in that game. Despite the setback, Musgrove is still second behind Alcantara in the latest NL Cy Young betting boards.
Sandy Alcantara Current NL Cy Young Award Betting Favorite
Updated odds to win the 2022 NL Cy Award 🏆

– Sandy Alcantara +225
– Joe Musgrove +450
– Corbin Burnes +500
– Zack Wheeler +1000
– Max Fried +1400
– Carlos Rodon +1500
– Tony Gonsolin +1800
– Aaron Nola +2000
– Pablo Lopez +2500
– Kyle Wright +3500

(Odds via @BetMGM) pic.twitter.com/k6dq6Ai0n9

— VegasInsider (@VegasInsider) June 25, 2022
Alcantara also fumbled in his last start, proving he is human by giving up four earned runs in a 5-3 loss to the New York Mets last Saturday. However, the Marlins ace kept his spot atop the NL Cy Young betting boards at +225 via online sportsbook BetMGM. Musgrove is still second at +450 but with Burnes closing in at +500 after picking up his third straight decision on Sunday.
Bet365 USA currently has Alcantara at +300, Musgrove at +400, and Burnes at 450. Meanwhile, Caesars has Alcantara at +250, Musgrove at +500, and Burnes at +500. PointsBet USA also has Alcantara at +250 while Musgrove at +450 and Burnes at +500. The FD Sportsbook meanwhile, has both Musgrove and Burnes at +550 and Alcantara at +280.
Alcantara is bidding to become the first Marlins pitcher to win the Cy Young award and with the way he is throwing, he has a good chance. But so does Joe Musgrove, who is having a breakout season. Don't sleep on the reigning NL Cy Young winner Burnes, too who is within striking distance of Alcantara and Burnes in what has become a three-way race for the award at this stage of the season.
Read More