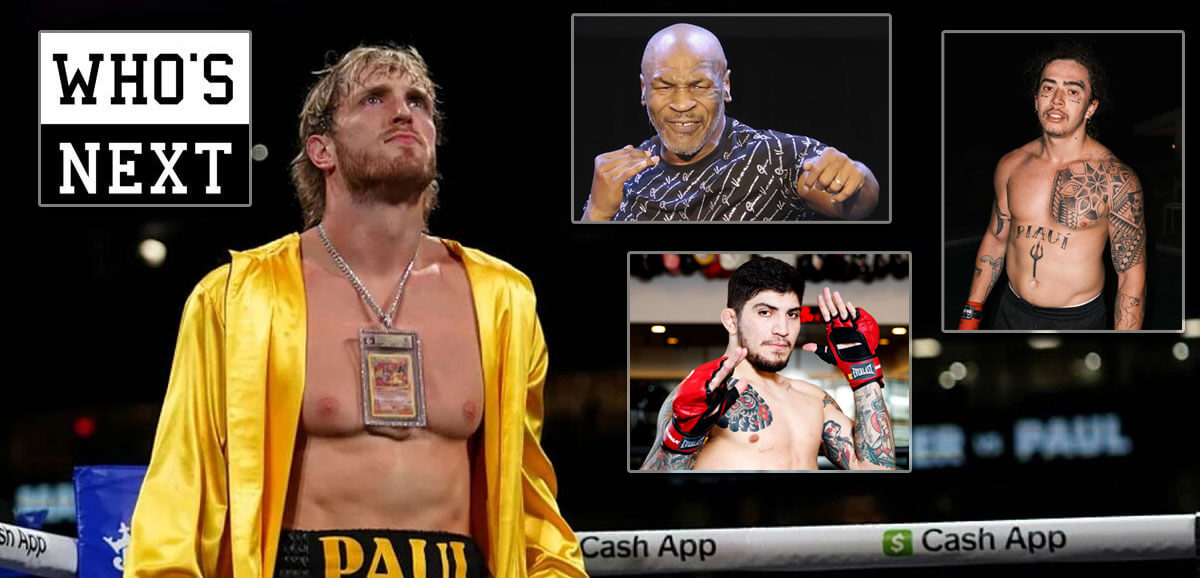 Brazilian YouTube star Whindersson Nunes is the -300 betting favorite to be Logan Paul's next opponent.
Long-time social media rival and Bellator fighter Dillon Danis is next at +280.
A possible showdown with former boxing heavyweight champion Iron Mike Tyson is at +450 odds.
Jake Paul's next bout is set as he is scheduled to fight Tommy Fury on August 6th. However, older brother Logan is still unattached and is being linked to several opponents. But who will Logan Paul fight next?
According to the online betting site Bovada, Brazilian comedian, singer, and YouTuber Whindersson Nunes is the heavy -300 betting favorite to be Logan Paul's next boxing opponent. The Brazilian star is coming off a draw during his exhibition boxing match against Brazilian legend and former boxing world champion Acelino Freitas last February.
Nunes vs Freitas Ends in a Draw
Combate exibe ao vivo o desafio de boxe entre Whindersson Nunes e Acelino 'Popó' Freitas https://t.co/q7epSMWleW pic.twitter.com/lr8MrPlR83

— Combate (@canalCombate) January 21, 2022
Nunes' first foray into boxing didn't end the way he wanted to. Freitas cut him badly during the fight and the YouTuber had to fight through adversity for most of the contest. Despite that, the inexperienced fighter forced a draw against the retired 46-year-old former world champion. After the bout, Nunes called out Logan Paul and Logan obliged, for obvious reasons.
Although Logan Paul has fought only exhibition boxing matches too, he has fought three times including an eight-round bout against boxing great Floyd Mayweather Jr. Logan Paul drew with fellow YouTube star KSI in his first exhibition bout then lost a split decision in their rematch. Meanwhile, he went the distance with Mayweather but no winner was announced in that bout.
Meanwhile, Nunes' boxing resume only has one fight on record, and that was against Freitas. Other than that, his significant numbers are 43.5 million YouTube subscribers, 20 million TikTok followers, 23.9 million Twitter followers, and 56.9 million Instagram subscribers. Given Nunes has no clear boxing experience, it's easy to see why Logan Paul accepted his challenge.
Confrontation with Dillon Danis
Logan Paul claims gun was drawn during confrontation with Dillon Danis https://t.co/FZMbGorSuL

— Bloody Elbow (@BloodyElbow) June 18, 2022
Next on the Bovada odds board as Logan's next possible opponent is MMA fighter and BJJ star Dillon Danis. Danis and the Paul brothers have been going back and forth on social media for years. In a recent interview, Logan detailed a confrontation where one of Danis' entourage pulled out a gun on Logan and his crew. That incident was years ago but Logan bringing it up now means he's thinking of Danis. Bovada says the BJJ ace is a +280 to be Logan's next opponent.
Interestingly on the list is former heavyweight champion Mike Tyson at +450. Logan has been calling out Iron Mike who despite already being 55 years old looks fit enough to put a beating on Logan Paul. Tyson last fought in an exhibition match against Roy Jones Jr. in 2020. If you watched that bout, Tyson still looked dangerous, especially for a YouTuber like Logan Paul.
Irish MMA fighters Paddy Pimblett and Conor McGregor are next on the Logan Paul odds board at +1200 and +2800, respectively. Pimblett is under contract with the UFC so that fight would be tough to make. McGregor meanwhile, has been angling for a Floyd Mayweather Jr. rematch and the Irishman is also looking to make a UFC comeback after suffering an injury.
Read More