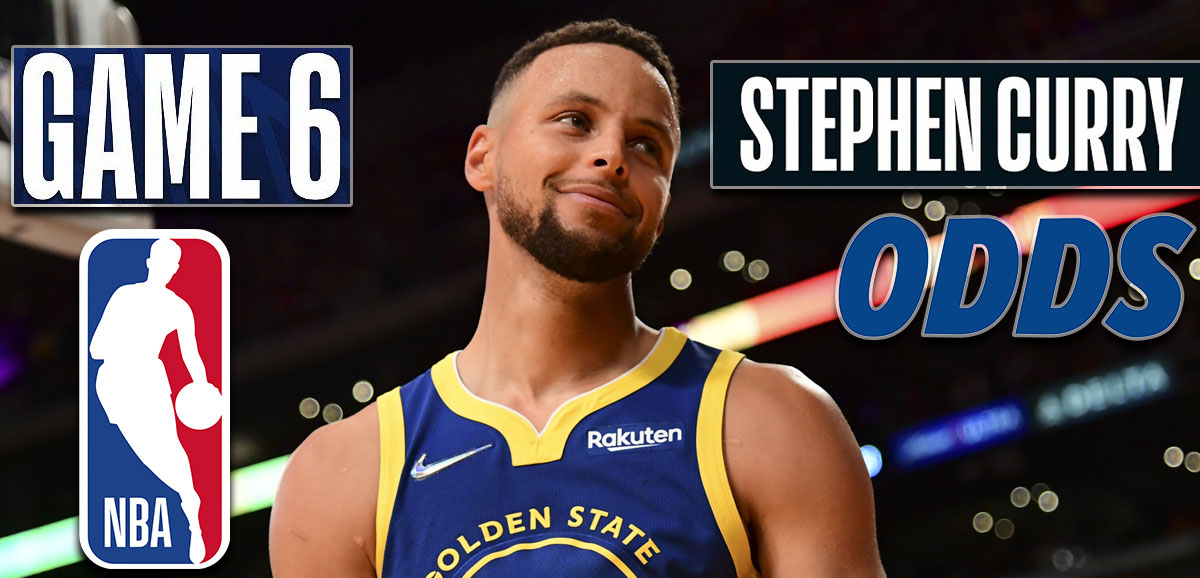 Steph Curry's scoring prop is the most heavily-bet prop bet for Game 6 of the 2022 NBA Finals.
According to BetMGM, 88% of the total bets wagered for Curry's scoring prop are on the OVER 28.5 points.
Curry is also the -360 betting favorite to win his first-ever Finals MVP award.
After a rough shooting night in Game 5 of the 2022 NBA Finals, bettors are placing their money on Steph Curry bouncing back with a big Game 6 performance on Thursday night.
According to the online sportsbook BetMGM, Curry's scoring prop is the most heavily-bet prop bet for Game 6 of the 2022 NBA Finals, with 88% of the total bets wagered on the OVER 28.5 points.
Curry was a -10000 to Make at Least One Three-Pointer
Steph Curry was -10000 to make at least one three-pointer @DKSportsbook last night

He shot 0-9 from downtown and failed to hit a three for the first time in 132 career postseason games 😳 pic.twitter.com/fqtDB3Qoak

— Action Network (@ActionNetworkHQ) June 14, 2022
Curry shot just 7-22 from the field and finished with just 16 points in Game 5 after averaging 30+ points through Game 4. But more than that, he missed all of his nine attempts from three-point distance, snapping a streak of 132 consecutive postseason games where he made at least one three-point basket which was by far, the longest such streak in the history of the NBA. It was also the most 3-pt field goal attempts without a make in his career.
To illustrate how unlikely that performance was, the last time that Curry did not make a three-pointer in an NBA game-playoffs and regular season, was on November 8, 2018. Game 5 ended an incredible streak of 233 consecutive games with a three-point make. Curry was also a massive -10000 betting favorite to make at least one three-pointer in Game 5.
But despite Curry's historic struggles, the Warriors still beat the Celtics by double digits. Not only did Boston win outright, but they also covered the betting spread as Golden State was a -4 point spread betting favorite in Game 5. The Warriors also dealt the Celtics their first back-to-back losses in the current playoffs. Boston entered Game 5 with a 7-0 SU and ATS record after a loss this postseason. More importantly, the Warriors took a monumental 3-2 lead in the NBA Finals, moving one win closer to winning their 4th NBA title in the last eight seasons.
Updated Finals MVP Odds
Updated NBA Finals MVP odds🏆

• Stephen Curry (-360)
• Jayson Tatum (+400)
• Jaylen Brown (+1800)
• Andrew Wiggins (+2000)
• Marcus Smart (+11000)

(Odds: @FDSportsbook) pic.twitter.com/KXYbYVjtIW

— ClutchPoints Betting (@CPBetting) June 15, 2022
Curry heads to Thursday's Game 6 averaging 30.6 points, 5.6 rebounds, and 4.6 assists per game in the 2022 NBA Finals. He is currently the heavy -360 betting favorite to win the 2022 NBA Finals MVP award. Boston's Jayson Tatum is his closest pursuer for the award at +400 but if the Dubs are going to win the title, Curry's chief rival would be Andrew Wiggins who is listed at +2000 at the best NBA betting sites.
Wiggins saw his Finals MVP odds significantly shorten after a massive Game 5 performance. Wiggins was a +10000 before Game 5 but moved to third in the odds boards after scoring 26 points and grabbing 13 rebounds during the Warriors' 104-94 win the last time out. Wiggins has scored a total of 41 points and pulled down 29 rebounds in the last two games of the series. Another big performance in Game 6 could push Wiggins to serious contention.
The Warriors are currently +3.5 point underdogs to the Celtics in Game 6 which will be played at Boston's TD Garden. However, if the sports bettors are correct that Curry is going OVER his 28.5-point scoring prop on Thursday night and the Warriors are winning their 4th championship in Game 6, it's highly likely that Stephen Curry will go on to win his first-ever Finals MVP award.
Read More