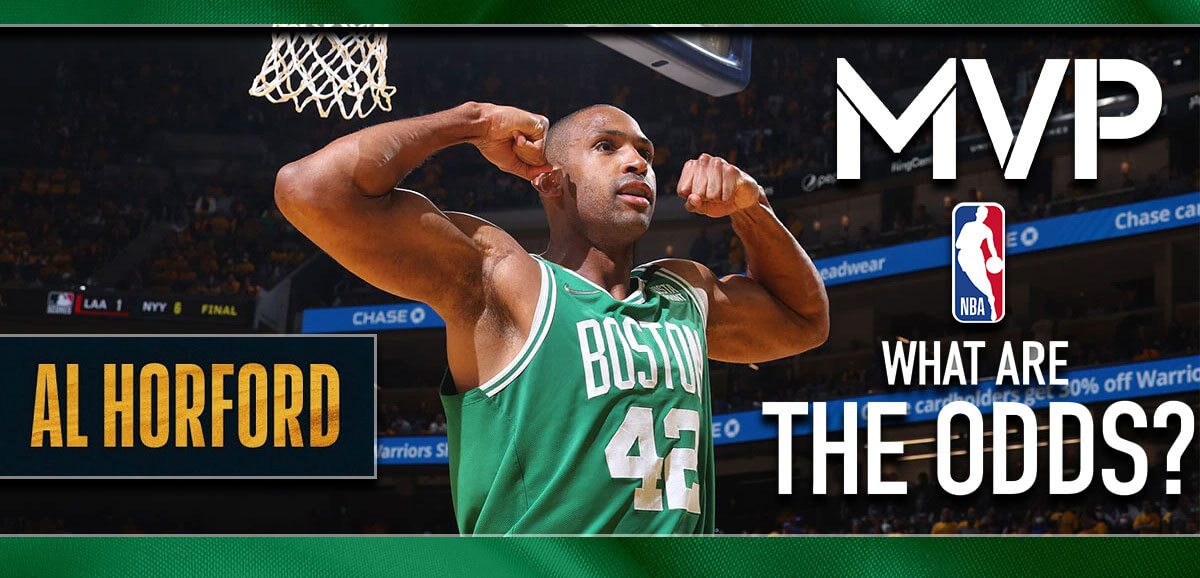 Steph Curry and Jayston Tatum are still 1 and 2 in the latest Finals MVP betting boards.
However, Al Horford has moved up from +5000 to +1200 via Caesars Sportsbook.
Jaylen Brown is down to +500 from +1000 at BetMGM.
In the aftermath of Game 1 of the 2022 NBA Finals, the NBA's Futures odds boards at the best NBA sportsbooks have shifted.
The Celtics are now the -175 betting favorites to win the 2022 NBA title after opening as +135 underdogs to the Warriors. Golden State meanwhile, has faded from -155 to +155. Boston is also the +350 favorite to win the series in six games after Golden State opened at +400 to win in Game 6 or 7.
The Finals MVP boards also shifted although Steph Curry and Jayson Tatum are still the top two favorites at +125 and +150 respectively, at PointsBet USA. However, Boston's Jaylen Brown and Al Horford have seen their Finals MVP odds improve dramatically.
Horford and Brown were Boston's top two performers in Game 1 as Jayson Tatum's offense struggled. No question, Tatum still had 13 assists to make up for his poor shooting night but it was Brown and Horford who rallied the Celtics back from a live odds of +1600 entering the fourth quarter.
What a Finals Debut for Al Horford
What a #NBAFinals debut for Al Horford!

☘ 26 PTS, 6 3PM ☘#NBAFinals presented by @YouTubeTV 🏆 pic.twitter.com/XFSrZiYgXr

— NBA (@NBA) June 3, 2022
Horford ended the longest current Finals Appearance drought by any NBA player when the Celtics beat the Miami Heat in Game 7 of the Eastern Conference Finals. The win enabled Horford to make his first finals appearance after 141 playoff games and Big Al made sure it was one worth remembering.
The recently turned 36-year-old led the Celtics with 26 points on 9-12 shooting including 6-8 from behind the three-point arc. Horford's six three-pointers in Game 1 were the most he's ever made in an NBA game during his entire NBA career. In less than six minutes during Boston's 17-0 run, Horford was a +19 on the floor as Boston went up by 14 points with 1:10 left after trailing by three points with still 6:04 left to play in the fourth quarter.
Because of his Game 1 performance, Horford was the biggest climber in the Finals MVP betting boards after Game 1. Horford opened at +5000 via Caesars Sportsbook but is now listed at +1200 after Game 1. Big Al has also moved from +8000 to +1600 at BetMGM. He even went from +10000 to +1200 at BetRivers.
Jaylen Brown Ignited Celtics' 4th Quarter Run
Jaylen Brown scored 10 points in Q4 igniting the @celtics run to take control of Game 1 and take a 1-0 series lead!@FCHWPO: 24 PTS, 7 REB, 5 AST, 2 STL pic.twitter.com/Tvf1fhJCuw

— NBA (@NBA) June 3, 2022
While it was Big Al who got the bulk of the credit for Boston's Game 1 win, it was Jaylen Brown who ignited Boston's fourth-quarter run. JB scored five quick points and threw an alley-oop pass to Robert Williams III as the Celtics cut the Warriors' 12-point 3rd quarter lead down to five just minutes into the final stanza. Brown would go on to score 10 4th quarter points and 24 for the game with 7 rebounds, 5 assists and 1 steal as Boston took down Golden State in Game 1.
Brown leads the current playoffs in 4th quarter points while shooting an incredible 63% from the field and 67% from behind the three-point arc. He's shooting 10.6% better in FGs and 25.6% better in 3P% than the other Top 10 fourth-quarter scorers in the current postseason. Brown's 4th quarter offensive rating in the current postseason is 126 while his plus/minus during the final period of the 2022 playoff games is +18 after Game 1.
Before Game 1, Brown was listed at +1000 to win the Finals MVP award at BetMGM. He is now at +500 at the said sportsbook. Brown is listed at an even shorter +450 price via the BetOnline App. Brown has slightly longer odds at PointsBet USA and the FD Sportsbook at +650 but is one of only three players with odds shorter than +1000.
Read More