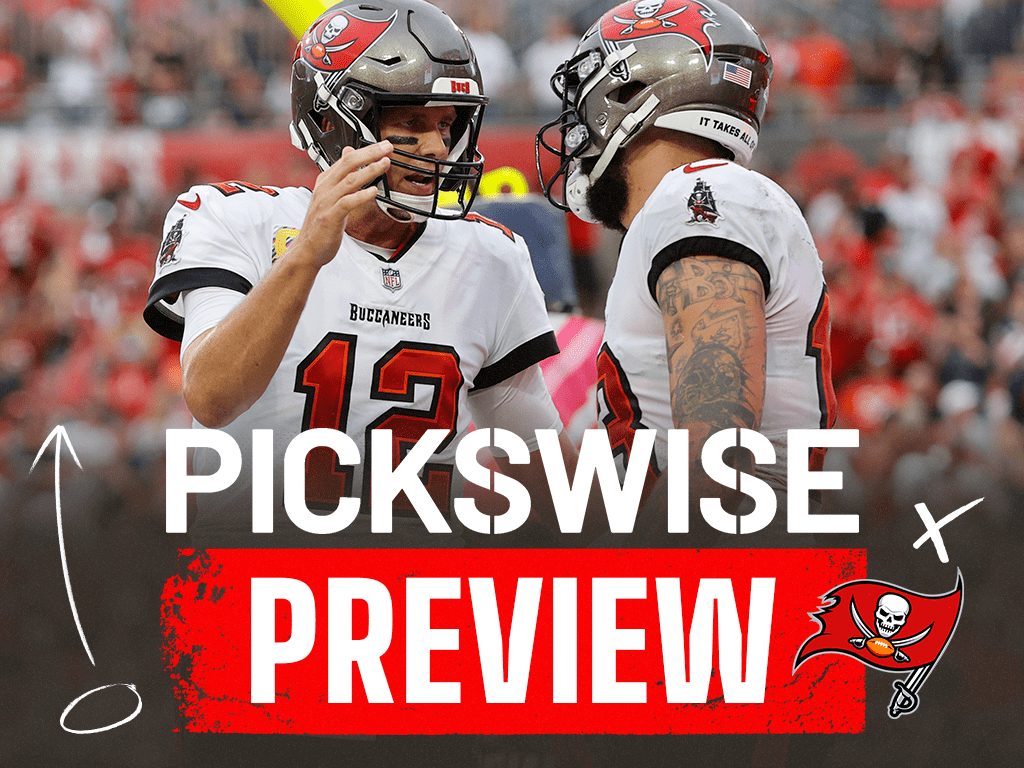 Tom Brady is back. That, of course, was the obvious main talking point of the Tampa Bay Buccaneers' offseason. Brady, 44, retired in February but that did not last long at all and he announced in March that he would return. Unsurprisingly, Brady's first two seasons in Tampa were smashing successes. The Bucs won the Super Bowl two years ago and in 2021 they ended the New Orleans Saints' reign atop the NFC South before losing to the eventual champion Los Angeles Rams in the playoffs.
With the 2022 NFL season a little more than a month away, it's time to break down the Bucs and see what's in store for what could be Brady's swansong. Maybe? Or not?
Tampa Bay Buccaneers breakdown
2021 record: 13-4
2022 ATS record: 9-8
2021 O/U record: 9-8
Key players in: Julio Jones (WR), Russell Gage (WR), Logan Ryan (S), Keanu Neal (S), Fred Johnson (G), Shaquille Mason (G), Akiem Hicks (DE)
Key players out: Rob Gronkowski (TE), Jason Pierre-Paul (DE), Ndamukong Suh (DT), Alex Cappa (G), Ali Marpet (G)
2022 NFL Draft class: Logan Hall (DE), Luke Goedeke (OT), Rachaad White (RB), Cade Otton (TE), Jake Camarda (P), Zyon McCollum (CB), Ko Kieft (TE), Andre Anthony (DE)
Tampa Bay Buccaneers 2022 NFL season odds
Odds provided by DraftKings Sportsbook
Tampa Bay Buccaneers Super Bowl odds
The Bucs are +700 to win Super Bowl LVII, which has them as the second favorite behind only the Buffalo Bills.
Tampa Bay Buccaneers NFC Championship odds
Tampa Bay is a +350 favorite to win the NFC. The Green Bay Packers (+400) and Rams (+450) are not too far behind.
Tampa Bay Buccaneers NFC South odds
At -250, the Bucs are heavy favorites to triumph in the NFC South. The Saints are next at +310.
Tampa Bay Buccaneers win total odds
The Bucs' win quota is 11.5 games. Under 11.5 is a slight -120 favorite, while the over comes with +100 odds. Tampa Bay is -650 to make the playoffs ("no" would pay out at long +450 odds).
Head to our NFL Odds page for odds on all the main NFL betting markets
Tampa Bay Bay Buccaneers Schedule 2022
Week 1: at Dallas Cowboys – Sunday, September 11
Week 2: at New Orleans Saints – Sunday, September 18
Week 3: vs Green Bay Packers – Sunday, September 25
Week 4: vs Kansas City Chiefs – Sunday, October 3
Week 5: vs Atlanta Falcons – Sunday, October 9
Week 6: at Pittsburgh Steelers – Sunday, October 16
Week 7: at Carolina Panthers – Sunday, October 23
Week 8: vs San Francisco 49ers – Thursday, October 27
Week 9: vs Los Angeles Rams – Sunday, November 6
Week 10: vs Seattle Seahawks – Sunday, November 13
Week 11: BYE
Week 12: at Cleveland Browns – Sunday, November 27
Week 13: vs New Orleans Saints – Monday, December 5
Week 14: at San Francisco 49ers – Sunday, December 11
Week 15: vs Cincinnati Bengals – Sunday, December 18
Week 16: at Arizona Cardinals – Sunday, December 25
Week 17: vs Carolina Panthers – Sunday, January 1
Week 18: at Atlanta Falcons – Sunday, January 8
We'll have NFL picks for EVERY matchup of the 2022 season
Tampa Bay Buccaneers 2021 season recap
Interestingly, the Bucs got swept by the Saints. Nonetheless, Brady and company still made a mockery of the NFC South. They won it by four games, compiling a 13-4 record to New Orleans' 9-8 mark. Not unlike in Brady's first season, the Bucs started relatively slow (6-3 through nine games) before coming on strong (7-1 in their last eight). They destroyed the Philadelphia Eagles in the wild-card round before losing a wild affair with the Rams during divisional-round action. Brady finished runner-up to Aaron Rodgers in NFL MVP voting after throwing for 5,316 yards with 43 touchdowns and 12 interceptions.
Read our Super Bowl 57 predictions and best bets, including a +4500 longshot
Tampa Bay Buccaneers 2022 NFL season predictions
Some year Brady will have to start slowing down, right? Maybe so, but this year is not necessarily the year. There is no sign of it happening, and even if it does happen as long as it's only a minor step back Tampa Bay could be just as good as it was in 2021. After all, it's not like this team is just Brady. The only unit that will look much different is the offensive line, but the Bucs' offseason additions should more than make up for the subtractions. Although Chris Godwin is coming off a torn ACL, Julio Jones was brought in as some high-upside insurance. If Rob Gronkowski stays retired, Cameron Brate can pick up the slack. Tampa Bay finished 13th in total defense last season and it should once again be hovering around the top 10. Now that there is no hole at quarterback, this team looks poised for a lot more success.
Best bet: Tampa Bay Buccaneers Over 11.5 wins (+100)
If the Bucs can weather an early storm of Dallas on the road, New Orleans on the road, Green Bay and Kansas City, they should be off to the races. The schedule lightens up the rest of the way (how could it not?), as they get two games against both Atlanta and Carolina while also entertaining the Saints at home on Dec. 5. When plus money is being offered on Over 11.5, I will grab it.
Tampa Bay Buccaneers season record predictions
As mentioned above, I'm willing to take Over 11.5 at plus money. The Bucs may not finish with the best record in all of football, but a 12-5 mark is certainly realistic.
Find out which QBs we're targeting for our NFL MVP best bets
Pickswise is the home of free expert NFL Picks and NFL Odds. Be sure to check out all of our season previews and NFL Futures Bets leading up to the 2022 NFL season.
The post 2022 Tampa Bay Buccaneers preview – Super Bowl Odds, predictions & Best Bets appeared first on Pickswise.
Read More