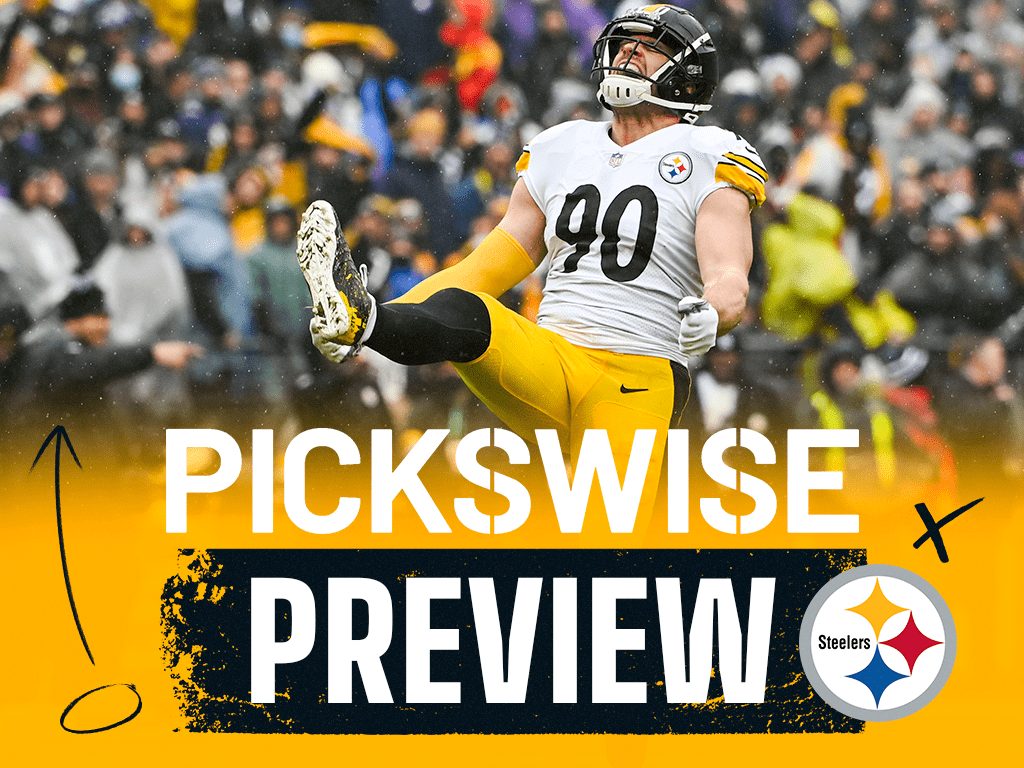 No franchise turns over head coaches slower than the Pittsburgh Steelers, and in recent decades they have been changing quarterbacks at an even slower rate. While the Mike Tomlin era is alive and well in Pittsburgh, the Ben Roethlisberger era has finally come to an end. Following Roethlisberger's retirement this offseason, the Steelers used their first-round draft pick on QB Kenny Pickett – ironically, of Pittsburgh University.
Will the Steelers take a step back with a rookie under center, or will Tomlin maintain his well-oiled machine and put it pack in the playoffs? Let's take a look at what could be in store for Pittsburgh during the 2022 NFL campaign.
Pittsburgh Steelers breakdown
2021 record: 9-7-1
2022 ATS record: 8-9
2021 O/U record: 6-11
Key players in: Myles Jack (LB), Larry Ogunjobi (DT), Levi Wallace (CB), Mitchell Trubisky (QB)
Key players out: Ben Roethlisberger (QB), JuJu Smith-Schuster (WR), Joe Haden (CB), Trai Turner (G), Ray-Ray McCloud (WR)
2022 NFL Draft class: Kenny Pickett (QB), George Pickens (WR), DeMarvin Leal (DE), Calvin Austin III (WR), Connor Heyward (FB), Mark Robinson (LB), Chris Oladokun (QB)
Pittsburgh Steelers 2022 NFL season odds
Odds provided by DraftKings Sportsbook
Pittsburgh Steelers Super Bowl odds
The Steelers are +9000 to win Super Bowl LVII, which has them ahead of only nine teams.
Pittsburgh Steelers AFC Championship odds
Pittsburgh is +5000 to capture the AFC title, with just the Jacksonville Jaguars (+6500), New York Jets (+7500) and Houston Texans (+13000) behind.
Pittsburgh Steelers AFC North odds
At +950, the Steelers are the longshots in the AFC North. The Baltimore Ravens are +160 favorites.
Pittsburgh Steelers win total odds
The Steelers' win quota is 7 games. Over 7 is a -125 favorite, while the under comes with +105 odds. As for making the playoffs, Pittsburgh is a +350 underdog. It is -450 to miss the playoffs.
Head to our NFL Odds page for odds on all the main NFL betting markets
Pittsburgh Steelers Schedule 2022
Week 1: at Cincinnati Bengals– Sunday, September 11
Week 2: vs New England Patriots – Sunday, September 18
Week 3: at Cleveland Browns – Thursday, September 22
Week 4: vs New York Jets – Sunday, October 2
Week 5: at Buffalo Bills – Sunday, October 9
Week 6: vs Tampa Bay Buccaneers – Sunday, October 16
Week 7: at Miami Dolphins – Sunday, October 23
Week 8: at Philadelphia Eagles – Sunday, October 30
Week 9: BYE
Week 10: vs New Orleans Saints – Sunday, November 13
Week 11: vs Cincinnati Bengals – Sunday, November 20
Week 12: at Indianapolis Colts – Sunday, November 27
Week 13: at Atlanta Falcons – Sunday, December 4
Week 14: vs Baltimore Ravens – Sunday, December 11
Week 15: at Carolina Panthers – Sunday, December 18
Week 16: vs Las Vegas Raiders – Saturday, December 24
Week 17: at Baltimore Ravens – Sunday, January 1
Week 18: vs Cleveland Browns – Sunday, January 8
We'll have NFL picks for EVERY matchup of the 2022 season
Pittsburgh Steelers 2021 season recap
The Steelers could not have made the playoffs in any more dramatic fashion than they did. Heading into the final week of the regular season, Pittsburgh needed a win over Baltimore and any result other than a tie in the Raiders-Chargers game. Roethlisberger and company completed leg one by outlasting the Ravens 16-13 in overtime. Shortly thereafter, sure enough the Raiders and Chargers came ever so close to tying. That contest also went into OT and dwindled down to the final seconds, when Las Vegas kicker Daniel Carlson sent Pittsburgh to the playoffs by nailing a game-winning field goal as time expired for a 35-32 win over the Bolts. That prolonged Roethlisberger's career by a week – and only one week. Unsurprisingly, the Steelers were unable to make the most of their postseason berth. They had to go on the road to Kansas City and promptly got thumped by the Chiefs 42-21.
Read our Super Bowl 57 predictions and best bets, including a +4500 longshot
Pittsburgh Steelers 2022 NFL season predictions
Pittsburgh already wasn't great last year and now it is a team in transition with Roethlisberger and Smith-Schuster now out of the picture. That being said, I don't think the Steelers are going to fall off a cliff. Head coach Mike Tomlin is too good to let that happen. Pickett is walking into an ideal situation. Whether he starts in Week 1 or not until later in the 2022 campaign, he will have plenty of help around him in the form of Diontae Johnson, Chase Claypool and Pat Freiermuth plus rookie receiver George Pickens. Najee Harris is one of the best running backs in the business. The other side of the ball features pass rusher extraordinaire T.J. Watt, safety Minkah Fitzpatrick and new linebacker Myles Jack. There may be some minor growing pains in Pittsburgh, but I don't think the learning curve will be steep.
Best bet: Pittsburgh Steelers Over 7 wins (-125)
Most hardcore football fans will be aware of this statistic: in Tomlin's 15 seasons as head coach, not once have the Steelers compiled a losing record. Even if you already did know that stat, it doesn't make it any less amazing. Yes, that means Tomlin has never won fewer than 8 games. And now he has 17 chances to do so (as he did last season) after the NFL expanded to 18 weeks starting in 2021. It's true that he no longer has Roethlisberger at his disposal, but Big Ben wasn't very good last year and Pittsburgh still went 9-7-1 and snagged a playoff spot. There is no reason why this team can't once again get to – or exceed – the 8 mark. At the very least this should be a push, but I think the Steelers will go over.
Pittsburgh Steelers season record predictions
The Steelers probably aren't going to be great, but I just can't see a Tomlin-coached team being bad. Give me a mediocre record that exceeds their quota of 7 wins, so let's make it 8-9.
Find out which QBs we're targeting for our NFL MVP best bets
Pickswise is the home of free expert NFL Picks and NFL Odds. Be sure to check out all of our season previews and NFL Futures Bets leading up to the 2022 NFL season.
The post 2022 Pittsburgh Steelers preview – Super Bowl odds, predictions & best bets appeared first on Pickswise.
Read More