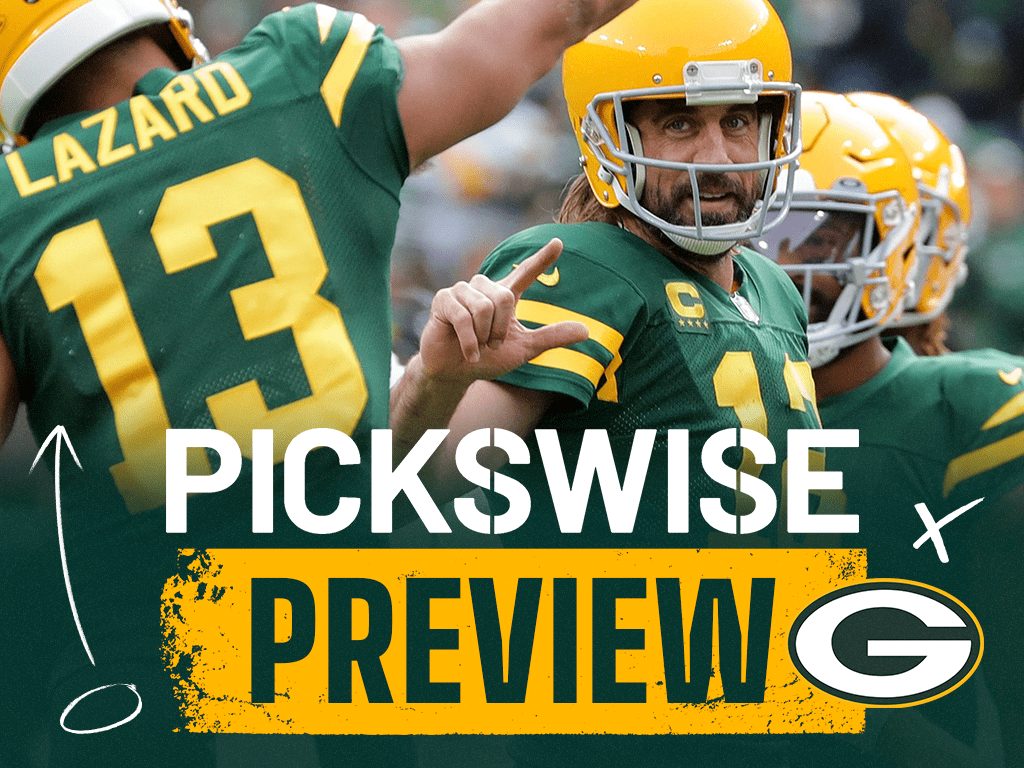 Last year was almost a tale of two seasons for the Packers. Green Bay excelled during the regular season, coasting to a No. 1 seed in the NFC and a second straight MVP for Aaron Rodgers. However, the playoffs were an entirely different story. Following their first-round bye, the Packers fell in demoralizing fashion to the 49ers in the Divisional Round. It was a crushing loss for a team that had aspirations of winning its first Super Bowl since 2011. 
With that loss, the offseason brought about changes. Most importantly, star wideout Devante Adams was traded to the Las Vegas Raiders. Adams had been a longtime target for Rodgers and the pairing had built a connection unlike most quarterback and receiver duos in football. However, even with the loss of Adams, the Packers are still favored in the NFC North this season. Can they get back to a Super Bowl for the first time in over a decade? Let's get into our season preview for Green Bay.
Green Bay Packers breakdown
2021 record: 13-4
2021 ATS record: 12-5
2021 O/U record: 8-9
Key players in: Keisean Nixon (CB), Jarran Reed (DL), Pat O'Donnell (P).
Key players out: Davante Adams (WR),Whitney Mercilus (LB), Corey Bojorquez (P), Marquez Valdes-Scantling (WR). 
2022 NFL Draft class: Quay Walker (LB), Devonte Wyatt (DT), Christian Watson (WR), Sean Rhyan (OL), Romeo Doubs (WR), Zach Tom (OL), Kingsley Enagbare (LB), Tariq Carpenter (LB), Jonathan Ford (DT), Rasheed Walker (OT), Samori Toure (OL). 
Get our previews for all 32 NFL teams in one place!
Green Bay Packers 2022 NFL season odds
Odds provided by DraftKings Sportsbook
Green Bay Packers Super Bowl odds
The Packers are among the upper tier of favorites to win the Super Bowl at +1000 odds. This puts them 4th overall in the minds of the oddsmakers. 
Green Bay Packers NFC Championship odds
Green Bay is +400 to triumph in the NFC. The Packers' last Super Bowl appearance came in 2011, when they knocked off the Steelers to win the title. 
Green Bay Packers NFC North odds
At -180 to win the division, the Packers are the favorites in the NFC North. The team with the next closest odds is the Vikings, who come in at +265.
Green Bay Packers win total odds
The Packers win total checks in at 11 wins, which is the second-highest total on the board. The over and under are both listed at approximately -110 odds.
Head to our NFL Odds page for odds on all the main NFL betting markets
Green Bay Packers Schedule 2022
at Minnesota Vikings, September 11
vs Chicago Bears, September 18
at Tampa Bay Buccaneers, September 25
vs New England Patriots October 2
vs New York Giants, October 9
vs New York Jets, October 16
at Washington Commanders, October 23
at Buffalo Bills, October 30
at Detroit Lions, November 6
vs Dallas Cowboys, November 13
vs Tennessee Titans, November 17
at Philadelphia Eagles, November 27

at Chicago Bears, December 4
BYE
vs Los Angeles Rams, December 19
at Miami Dolphins, December 25
vs Minnesota Vikings, January 1
vs Detroit Lions, January 8
We'll have NFL picks for EVERY matchup of the 2022 season
Green Bay Packers 2021 season recap
The Packers 2021 regular season was something to behold. After a blowout loss to the Saints in Week 1, Green Bay excelled during the remainder of the season. Aaron Rodgers had one of his best seasons en route to a 13-4 record, No. 1 seed in the NFC and a second straight MVP award for the veteran QB. As we previously mentioned, however, the playoffs were an entirely different story. Following their first-round bye, the Packers ran into a confident 49ers team in the Divisional Round. It was there that Green Bay fell in demoralizing fashion at Lambeau Field, all while Rodgers struggled mightily under the spotlight. It was a deflating loss for a team that had aspirations of winning its first Super Bowl since 2011.
Read our Super Bowl 57 predictions and best bets, including a +4500 longshot
Green Bay Packers 2022 NFL season predictions
The Packers offense has work to do without the services of Devante Adams, who was easily one of the best wide receivers in football. However, I still have full confidence in Aaron Rodgers' ability to perform at the highest level in the regular season. Drafting a couple of wideouts should help matters, and I do think the additions of Christian Watson and Romeo Doubs will help Rodgers stretch the field. Most importantly, the 2-headed monster of Aaron Jones and AJ Dillon in the backfield should strike fear into the heart of opposing defenses. And speaking of defense, Green Bay should have a top 10 defensive unit in the league this fall, something that the Packers worked on in free agency and the draft. 
The schedule isn't daunting either. I have the Packers losing games to the Vikings, Buccaneers, Bills, Eagles and Rams, with 4 of those 5 losses coming on the road. Outside of that, I expect that they'll drop one more game between the Dolphins and Lions at the end of the season, as the NFC North may already be wrapped up. The division is not a challenging one, and as long as Rodgers is healthy, it's tough to pick against Green Bay.
Best bet: Green Bay Packers over 4 division wins (-150)
For my best bet, I'll be backing the Packers to finish with over 4 division wins at DraftKings. As I mentioned previously, it's not going to be a banner year for the NFC North. I think the Vikings have a great shot at a Wild Card berth, but the Lions and Bears should pose no threat to Green Bay. I'm anticipating that the Packers will fall in Week 1 in Minnesota, but the rest of their division games fall favorably in their schedule. Green Bay should have no trouble sweeping the Bears and winning at home against Minnesota. From there, all the Packers need is to split the season series with the Lions to ensure we get at least a push. That should be no trouble for Rodgers and company. And if the Packers end up beating the Vikings to open the season, this should be a no-sweat cash. 
Green Bay Packers season record predictions
The Packers should continue their streak of being a strong regular season team. I have Green Bay finishing with a record of 11-6.
Target these motivated QBs in our NFL MVP best bets
Pickswise is the home of free expert NFL Picks and NFL Odds. Be sure to check out all of our season previews and NFL Futures Bets leading up to the 2022 NFL season.
The post 2022 NFL preview: Green Bay Packers futures, Super Bowl odds, predictions and best bets appeared first on Pickswise.
Read More